Frequently Asked Questions
Click here to go to shipping questions
Why did you start Lioness?
Liz: To be honest, at first, I was helping myself. I came from a more conservative, Midwestern upbringing where sex just wasn't talked about. The lack of information and stigma around the topic made me curious to learn more.
As I started to talk to friends and do things like sell intimacy products to women from many walks of life, I realized that I was far from being the only one who felt uncertain and had questions about sex. But because of the taboo, there are very few opportunities where people feel comfortable asking questions about their own sexual preferences.
We live in a world where unprecedented advancements are being made in almost every field imaginable, yet our understanding of female sexuality has not changed significantly since the 1980's.
With all the advancements we've seen since the 80's, we think that's pretty messed up, especially because our pleasure is integral to our reproductive health, general health, intimacy, happiness...everything.
I don't think female sexuality is as mysterious as it's made out to be. When there are enough resources behind it and different approaches of thought, it becomes as understandable as anything else. But sometimes, it feels like we're stuck in medieval times when it comes to the ways pleasure, especially female pleasure is talked about.
It's crazy. I had to do something about it. So here we are.
Why a Smart Vibrator?
I know, with all of the tech out there some of you might be thinking, "Why a smart vibrator?"
A lot has changed since the 1980s, but research on female sexuality hasn't advanced much since then. It's not for a lack of interest—global taboos, personal discomfort, and lack of funding have held us back, and it doesn't look like things are going to get much better on their own.
What happens in research doesn't exist in a bubble. We know that sexual pleasure is more than sex and is an essential part of everyone's lives. However, the lack of information available affects all of us - in our self-confidence, relationships, health, and even our ability to talk about sex and sexuality.
That's why the kind of work that we're doing at Lioness is especially important right now. We've created a platform for self-experimentation to help women learn about their own, unique bodies, and to learn more about female sexuality as a whole. There's so much more to learn and we've barely gotten started.
Click here to learn more about why we created a smart vibrator.
How does the Lioness Vibrator work?
The Lioness uses a suite of sensors to accurately chart out your sexual response and even identify your orgasm! It's the first of it's kind to ever be able to do this. The inspiration behind the technology comes from sex research labs, though instead of being hooked up to large machinery in a lab, it is packaged into a small vibrator that can be used in the comfort of your own home. You can explore whenever, however, on your own terms.
Use it like a normal vibrator. When you have a session you'd like to see, you can sync it to your Lioness app and see what happened during a session. Like a diary, you can keep track of different things that happened during the session (e.g. stress, with/without a partner, menstruation, and alcohol use are a few examples of things you could track). Over time, you can start seeing how your experience of pleasure can change from a variety of factors.
Click here to watch a quick walkthrough of how the Lioness Vibrator works.
Can a Lioness Vibrator actually help me have better sex/better orgasms and understand my sexuality?
We know. Numbers, data, and charts sound like the least sexy way to explore your sexuality, ever. But we've found that removing some of the "sexiness" from sex can help people learn about, understand, and communicate their own sexuality.
Don't just take our word for it. Cornell University Sex Researcher Sarah Merrill explains the science behind it: "Interoception — the psychological awareness of physical cues also known as a mind-body connection — is a concept in psychology that has been shown to increase well-being and motivation. Having this physiological feedback to pair with psychological sensations may help to increase mind-body awareness, sexually and holistically."
Is my data stored securely and kept confidentially?
Absolutely. Everything is encrypted and we fully anonymize the data—even we do not know who is who. Our guiding principle is that we treat your data the same way we would want our own to be treated.
We protect all of this anonymous data and use it internally to learn new things, improve our app, and most importantly, further our knowledge of female sexuality. Our access to this kind of information is unprecedented, and we're dedicated to using this for good.
For example, did you know our exploration of orgasm patterns is the first of its kind? Before that, the most recent dedicated study on orgasm patterns was in the 1980's and had a sample size of eleven (we're in the thousands).
As a part of our mission, we are eager to continue these kinds of advancements. If we ever bring in outside researchers for future studies (as we hope to do), we will only share anonymous data if the user has specifically opted in.
The way we see it, for some folks, privacy is freedom. For others, contributing and participating in science and research can be exciting and fulfilling. But we want to let that be up to the users and respect their decisions.
So is what you're doing a replacement for what the Kinsey Institute or universities do?
No! Academic research is really important and distinct from what we do. We have a longer discussion of this by our CTO on our blog.
Is it all about the orgasms?
Definitely not. Orgasms are just one part of enjoying your sexuality. While important, we're aiming to provide support and insight around a variety of aspects that don't just center around orgasms. Stay tuned!
Isn't the emotional component of sex important, too?
Absolutely. Our product supports understanding of the physiological side, but we recognize that emotional connection and intimacy are also critical in sexual enjoyment. That being said, the physiological side is often neglected to the point that everything is attributed to emotion. We believe that learning more about your own body is going to be beneficial overall, and it's what we're working to support.
Okay, so the vibrator is a cool piece of technology, but is it a good vibrator?
Yes! While on first glance it looks like a rabbit vibrator, we spent nearly half a decade working on all the little details of the design to make it as approachable and enjoyable for many people.
We took a combination of Liz's insights from selling intimacy products and feedback from our early beta testers to create the Lioness.
Lioness is much smaller than most insertable vibrators and is super light in weight. Surprisingly (or not depending on who you talk to) many people prefer a smaller vibrator that is relatively non-obtrusive, and yet there aren't many options for smaller vibrators out there…
Our vibrator has a flexible, clitoral nub. This is important because different people have different distances between the opening of the vagina and the clitoris. We found that many rabbit vibrators do not have this, meaning that some rabbit vibrators just don't fit some body types. Making the nub flexible means that the Lioness works for more people than a standard rabbit vibrator.
We have a low battery indicator. This seems simple, since it seems like everything has a low battery indicator, but when you realize that pretty much no vibrator has one (you know it has low batteries when it dies on you...mid-session) this is actually kind of a big deal.
Customizable settings. Do you like very strong, rumbly vibrations? Or do you prefer something softer? If you're someone who's looking for the perfect sensation or are tired of toggling between 9 different intensities you don't really care for, you can adjust it so it only has what you like.
Our vibrator is made from top-quality, medical-grade materials, is water resistant (you can dip it in the sink or tub, but don't scuba dive with it), and rechargeable via USB. No more stealing the batteries from your TV remote or dealing with melting, chemical-smelling vibrators (i.e. Yes, that can really happen with vibrators made from non premium silicone. Yes, that's happened to me before, multiple times. It's not fun).
...and much more! Seriously, I could write a book about the Lioness Vibrator. If you have additional questions, email us at support@lioness.io.
How long does the battery last?
It varies depending on how you use it, but at maximum vibration a Lioness can last for up to 2 hours on a single charge. Between the long battery life and the battery warning lights, you should never have to worry about that disappointing moment when your battery dies mid-session.
What is the vibrator made of?
100% body-safe silicone. The only other exposed materials are a temperature sensor—stainless steel, same as with medical devices—and hard, BPA-free plastic for the button panel. The latter is never inserted, but we're still using safe, highly-inert material.
What do you mean by water resistant?
The Lioness vibrator is completely waterproof in basically all reasonable circumstances (e.g. washing in the sink, shower). However, different countries have different requirements around what constitutes "waterproof." You'll be able to take a bath with it, but probably not scuba dive with it.
How big is the vibrator (what are the dimensions)?
Compared to other vibrators of this style, the first Lioness is on the smaller end because we found from user feedback that more people were looking for a smaller, less intimidating, and less uncomfortable vibrator.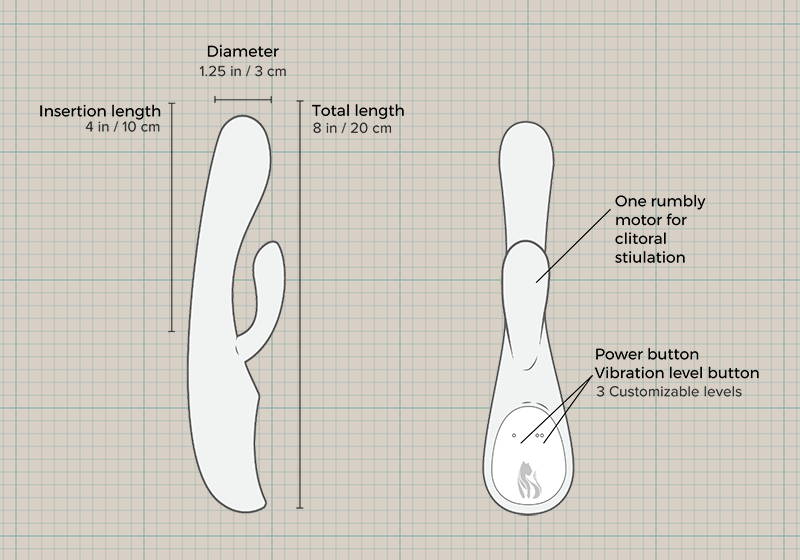 Where is the vibrating motor?
There is one vibrating motor in the external stimulation nub.
"But usually there are two motors?"
Yes, but we've found that most people don't like vibration in their vagina, so we removed that vibrating motor. More motors is not always better!
How quiet is the vibrator?
On a scale from a happy cat's soft purr that you can only really hear if you feel it too, to your phone vibrating in a bucket of nails next to your pillow at night, Lioness is a 3 (very scientific scale).
In all seriousness, the Lioness vibrator has a very strong motor that, when compared to other vibrators of comparable strength, is very quiet.
Furthermore, you can adjust the strength of your vibrator to your fancy on a scale from 0 to 100. The stronger the vibration, the louder it gets. You can adjust the vibration strength to suit your situation (Parents in town? Roommate next door? Kid sleeping? Turn it down).
What kind of lube should I use?
We recommend using water-based lube. We know that water-based lubricants work with our vibrator. There may be some other lubes out there that are safe to use, but the formulations are too varied for us to be 100% certain of every single one on the market. If you're uncertain about a non-water-based lubricant, it's probably better not to test it. We've already broken a few vibrators experimenting with other types of lubricant, including a 2-in-1 massage oil. :(
Shipping
Where is the Lioness available?
Currently, Lioness is only available for sale at our website (you're here now!). We ship to the United States and Canada.
When will Lioness be available in _____?
As much as we'd like to have Lioness available to anybody around the globe, there are no set dates for when Lioness will be available outside of the United States and Canada. This is because of shipping regulations for a high-end consumer product like the Lioness.
When will my Lioness ship?
Lioness ships out of the warehouse in California in 1-2 business days.
Will the shipping be discreet?
Definitely. Everything will be discreetly packaged in a plain brown box — your coworkers will be none the wiser!
How will this purchase show up on my credit card bill?
It will appear as "SP * LIONESS HEALTH".
Canada Shipping: All you need to know
Wondering why we're charging $45 for express shipping to Canada? I know it may sound ridiculous, but express shipping is actually the best way to save you money in shipping fees with FedEx. The less expensive FedEx alternative, Canada Ground, actually charges you around $40 - $50 in ADDITIONAL import fees. So Canada Ground may seem cheaper upfront, but you'll literally be paying for it later.
You should also keep in mind that, depending on your region and local import fees, you should expect to pay between $10-35 USD in import customs fees. You can find more information at the Canada Border Services Agency's website.
Other questions?
We're always down to answer any questions you have! Feel free to shoot us an email at support@lioness.io.