Frequently Asked Questions
Technology
How does the Lioness Vibrator work?
Though it looks and feels like a standard vibrator, the Lioness vibrator integrates a suite of sensors including pressure, motion, and temperature to accurately chart out your own sexual response and even identify your orgasm! The app's insights are based on decades of sex research, input from professionals, as well as our very own research. The insights will only get better as we learn more!
Can a Lioness Vibrator actually help me have better sex/better orgasms and understand my sexuality?
We know. Numbers, data, and charts sound like the least sexy way to explore your sexuality, ever. But we've found that removing some of the "sexiness" from sex can help people learn about, understand, and communicate their own sexuality.
Don't just take our word for it. Cornell University Sex Researcher Sarah Merrill explains the science behind it: "Interoception — the psychological awareness of physical cues also known as a mind-body connection — is a concept in psychology that has been shown to increase well-being and motivation. Having this physiological feedback to pair with psychological sensations may help to increase mind-body awareness, sexually and holistically."
Is my data stored securely and kept confidentially?
Absolutely. We thought about privacy and security from the very beginning for this product. Everything is encrypted and we fully anonymize the data. Our guiding principle for the vibrator's design itself is that we treat your data the same way we would want our own to be treated.
Is it all about the orgasms?
Definitely not. Orgasms are just one part of enjoying your sexuality. While important, we're aiming to provide support and insight around a variety of aspects that don't just center around orgasms.
Isn't the emotional component of sex important too?
Absolutely. Our product supports understanding of the physiological side, but we recognize that emotional connection and intimacy are also critical in sexual enjoyment. That being said, the physiological side is often neglected to the point that everything is attributed to emotion. We believe that learning more about your own body is going to be beneficial overall, and it's what we're working to support.
What does "upgradeable firmware" even mean?
For those non-techie people out there (myself very much included), upgradeable firmware means you're buying a vibrator that will get better over time. It's upgradeable with options and features that we haven't even thought of yet! Just like how you update an app on your phone, you can update the Lioness Vibrator itself.
The Vibrator
Okay, so the vibrator is a cool piece of technology, but is it a good vibrator?
Yes! So much thought, care, and research went into the design of this vibrator — from the non-intimidating size to the body-conforming clitoral stimulator. The Lioness vibrator is made from top-quality, medical-grade materials, all the features you expect from a luxury vibrators, PLUS "smart" features you can only get with us, such as customizable vibration settings and even a travel lock.
How long does the battery last?
Between 4 hours to 16 hours(!!!), depending on if you want lots of vibes, little vibes, or no vibes. Between the long battery life and the battery warning lights, you should never have to worry about that disappointing moment when your battery dies mid-session.
What is the vibrator made of?
100% body-safe silicone. The only other exposed materials are a temperature sensor—stainless steel, same as with medical devices—and hard plastic for the button panel. The latter is never inserted, but we're still using safe, highly-inert material.
What do you mean by water resistant?
The Lioness vibrator is completely waterproof in basically all reasonable circumstances (e.g. washing in the sink, shower). However, different countries have different requirements around what constitutes "waterproof." You'll be able to take a bath with it, but probably not scuba dive with it.
How big is the vibrator (what are the dimensions)?
Compared to other vibrators of this style, the first Lioness is on the smaller end because we found from user feedback that more people were looking for a smaller, less intimidating, and less uncomfortable vibrator.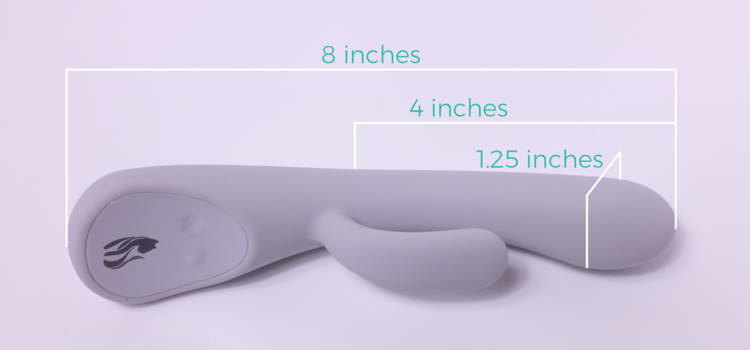 Where is the vibrating motor?
There is one vibrating motor in the external stimulation nub. We use the space in the shaft of the vibrator (the part used for internal stimulation) to store the sensors and extend the battery life.
How quiet is the vibrator?
On a scale from a happy cat's soft purr that you can only really hear if you feel it too, to your phone vibrating in a bucket of nails next to your pillow at night, Lioness is a 3 (very scientific scale). In all seriousness, the Lioness vibrator has a very strong motor that, when compared to other vibrators of comparable strength, is very quiet. Furthermore, you can adjust the strength of your vibrator to your fancy, on a scale from 0 to 100. The stronger the vibration, the louder it gets. You can adjust the vibration strength to suit your situation (parents in town? turn it down).
What kind of lube should I use?
We recommend using water-based lube. We know that water-based lubricants work with our vibrator. There may be some other lubes out there that are safe to use, but the formulations are too varied for us to be 100% certain of every single one on the market. If you're uncertain about a non-water-based lubricant, it's probably better not to test it. We've already broken a few vibrators experimenting with other types of lubricant, including a 2-in-1 massage oil. :(
Shipping
Where is the Lioness available?
Currently, Lioness is only available for sale at our website (you're here now!). We ship to the United States and Canada.
When will my Lioness ship?
Around 2-8 business days in the US, depending on the region. Products ship out from California, so the West Coast is fastest. Canada is around 3-8 business days, also varying by region.
Will the shipping be discreet?
Definitely. Everything will be discreetly packaged in a plain brown box — your coworkers will be none the wiser ;)
How will this purchase show up on my credit card bill?
It will appear as "SP * LIONESS HEALTH".
Canada Shipping: All you need to know
Wondering why we're charging $45 for express shipping to Canada? I know it may sound ridiculous, but express shipping is actually the best way to save you money in shipping fees with FedEx. The less expensive FedEx alternative, Canada Ground, actually charges around $40 - $50 in ADDITIONAL import fees. So it may seem cheaper, but you'll literally be paying for it later.
The other thing you need to keep in mind is that, depending on your region and local import fees, you should expect to pay between $10-35 USD in import customs fees. You can find more information at the Canada Border Services Agency's website.
---
Other questions?
We're always down to answer any questions you have! Feel free to shoot us an email at [email protected]