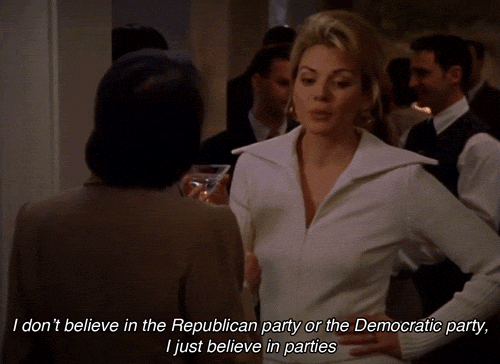 By: Meagan Drillinger
Grace saw her boyfriend sitting on the white couch and her dress fell to the floor. She climbed on top of him, naked, as a group of onlookers sat back to watch them have sex. She had never had sex in public before, but she was here and she was going to go big or go home.
She was nervous, of course. Sex clubs have always had a seedy reputation with images of masks and key exchanges and men with mustaches and pinky rings. She didn't know what she was going to find. To her surprise (and relief) what she found was a scene that was curiously...normal. And incredibly freeing.
Before she knew it there was a sea of naked people around her all engaged in various sex acts. The sounds of sex filled the small room in a secret location in the middle of Manhattan, and she knew she'd never be the same again.
Sex clubs and sex parties may seem taboo or risque, but as Grace learned, sex clubs are about finding what is erotic for you, the individual, and creating a safe space to explore it. Still, it's natural to feel nervous about attending. If you want to push the boundaries of your comfort zone, but are not sure what to expect, here are three things to set your mind at ease.
1. You do not have to dress particularly 'sexy' (but you might have more fun if you do)
While many sex clubs have certain dress codes, it's usually not required to show up wearing anything scandalous — unless you want to! Established sex clubs, likeBehind Closed Doors andChemistry, both sex clubs in NYC, will request that their party attendees dress nicely, i.e. no sneakers or jeans. Picture a business casual event or cocktail party and go from there. Of course, what you wear underneath is entirely up to you (Want to try pasties? Click here for some recommendations). You might find that as you feel more and more comfortable, you'll want to wear less and less. Often sex club parties have specific themes, too, like Naughty & Nice or Lace & Lingerie. It might be fun to join in on the theme, but by no means is it required.
"I wore white pants, heels, and a halter top to my first-ever sex club," says Jane, 29. "At no point did I feel I was 'over dressed.' In fact, I wasn't even the only onenot wearing my underwear. When we first showed up, everyone was in a cocktail dress or a button-down shirt. It felt like a really classy New York City cocktail party."
2. You do not have to have sex (but definitely can if you want to)
Contrary to popular belief, you don't actually have to have sex at a sex club. The option is, of course, always there, and the tone and theme is typically about arousal (erotic performances, burlesque dancers, etc.), but sex in general is about having fun, feeling comfortable, and most importantly, consent. So while many people at a sex club may be having sex around you, you are never, ever required to participate. Just as in regular sex, everything must operate consensually. No means no. That's really all there is to it.
"I was incredibly nervous at my first sex party and didn't feel, well, sexy," says Greg, 35. "But that was completely okay. It was still okay for me to observe what was happening around me. That made me feel a lot more comfortable, and eager, to attend a second one. And a third. I definitely participated at those."
3. It's more fun if you bring a friend (and protection)
That said, sex is essentially the entire point. Whether that means bringing your monogamous partner and having sex in public, treating it as a swinger's club and swapping partners, bringing someone new into your current relationship, or simply remaining a voyeur, the choice is entirely up to you—provided you ask first. Single women are welcome to attend by themselves, but single men alone are frowned upon.
Remember: No matter the sexual scenario, protection is always the right choice. Sex clubs typically have condoms available, but it is not their responsibilities to teach adults how to have safe sex. Bringing your own protection—and using it—is a vital component to any sexual experience.
Not All Sex Clubs Are Created Equal
There is a definitive hierarchy when it comes to choosing sex clubs. In fact, some sex clubs are more like ultra-exclusive,high society memberships that can cost more than the average person makes in a year. Of course, there are more affordable ones, but attending a sex club isn't necessarily something you'll want to cheap out on.
===
Don't feel like going out? Check out the Lioness Smart Vibrator to explore your body in the comfort of your own home.
Not only doesLionessamp up the pleasure, but precision sensors let you see arousal and orgasms so you can learn exactly what works for you and/or your partner.
Click hereto learn more.