A practical guide to CBD Lube
We have a pretty unique ability to test how well things work for sex. We can use the Lioness Smart Vibrator, biofeedback, and data to measure some of the potential effects of CBD lube and THC lube on arousal and orgasm.
We've done a lot of research on some of the differences between available lubes on the market so you don't have to try them all (it may be fun, but from personal experience, it takes a long time!).
Before you go out and buy something, there are a few important considerations you might not expect before getting your own CBD lube. We go over some of the questions you might want to consider, as well as share some product recommendations from our friends at Eaze Wellness and Foria.
Do you use condoms or other latex protection?
If you plan to use CBD lube during partnered sex while using latex protection, you must use a CBD lubricant that is not oil-based. Full stop. Do not use any that are sold as massage oil either. Using any oil-based lubrication can degrade or break condoms and other forms of contraceptive barriers, which can put you and your partner at risk for STIs or an unintended pregnancy.
Out of all of the ones listed here, Kush Queen is the only latex-safe CBD lube. There are others, but I've found that a majority out there tend to be oil-based, so tread carefully if this is an important consideration for you.
Do you want to use it with silicone or other rubber sex toys?
If so, tread carefully with oil-based lubes. Similar to above, covering your toy in oil may cause the material to either warp or generally degrade, depending on whether or not its silicone or some other rubbery material. If you want to use your toys with it though, you can use the oil as sort of a pre-lube (which is often the directions for these things), give it 20 minutes for your body to absorb the oils (or however long for the desired effect), and wipe off excess oils before introducing sex toys into the mix.
Do you have a vagina that's prone to infections?
If your vagina is prone to infection, you probably should steer clear of products with added flavors or fragrances. Some of these contain sugar, or other ingredients that could disrupt your vagina's natural pH and give you a yeast infection. If your vagina is very prone to infection, even considering lubes that do not contain glycerin may help curb issues as well.
Differentiating between hemp-based CBD, hempseed oil, and CBD with THC
These might be marketed similarly, but they are all contain different ingredients that may have different effects on you. This article from Healthline does a good job providing the basics on some of the differences between hemp-based CBD and hempseed oil.
Most of the ones I've listed below are hemp-based CBD except for Lust Naked (hemp seed extract). None of these will contain any/significant (more than 0.3%) amounts of THC, as those would be considered more of a cannabis lubricants, which you can learn more about here.
How much CBD do you want?
Different products have different amounts of CBD. Some will have high amounts of CBD in a small volume of lubricant, while others have smaller amounts in a larger volume. Some, like Kush Queen, engineer CBD molecules that are smaller for easier absorption (i.e. more potent).
There isn't any one best option here, but if you're looking to use a lot of lubricant but don't want to overload on CBD, I'd go for the lower amount of CBD (or vice versa if you're looking for the opposite experience).
What kind of viscosity would you like?
Simply put, some lubes are more watery than others. That might be good if you want the lube to reach a larger surface area, or you might find it annoying if it makes a bit of a mess, especially if it's oil-based. This is also a personal preference — but something you might want to consider when doing some comparison shopping.
"Can a guy use CBD lube?"
We get this question a lot — presumably this question means "can someone with a penis use CBD lube?"
The answer is yes—if you get lube into the rectum. Lubes won't have as much effect on the skin of the penis because it is far less absorbent than the vagina. However, like the vagina, the rectum is extremely capable of absorbing different ingredients — CBD and THC included. Foria makes CBD and THC suppositories that are perfect for this.
Is it edible?
Yes, since it's something that goes into the body so it would need to be edible. Some have more flavor than others — e.g. lubes containing vegetable-based glycerol will be less tasty, but they will also be less likely to cause infections, whereas more flavored lubes may be tastier but may not be as great for your pH balance.
And yes, if you consume it orally you'll also receive the effects of CBD, similar to using a cbd oil tincture.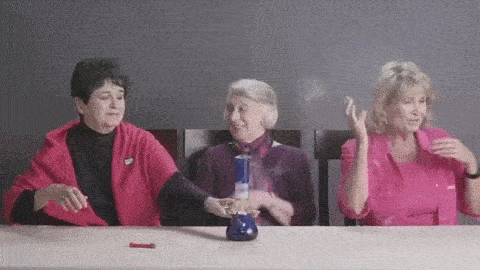 Nope, you won't be getting high off of CBD like this.
Not that there's anything wrong with that.
Will I get high?
No, CBD is non-psychoactive and will not get you high. These CBD lubes do not contain THC, the molecules that do get you high.
Product comparison
Below are several different CBD lubes you can check out and order online.
Most of these are from Eaze Wellness, which offers a pretty diverse selection of different CBD lubes which you can check out here.
Foria isn't carried by Eaze, but if you order from Foria's site you can also use the code LIONESS10 at checkout to save 10% on your order.
Lust Naked Hemp Natural Massage Gel
Condom/latex safe? No — "Lust Naked Play is intended as a natural massage gel for external use only."
Amount of CBD: 100mg in 60ml (~1.67mg/ml)
CBD type: Organic Cannabis Sativa (Hemp) Seed Extract
Flavor: Comes in unflavored and flavored varieties
Kiskanu CBD Intimacy Oil
Condom/latex safe? No (oil-based)
Amount of CBD: 100mg in 30ml (~3.33mg/ml)
CBD type: CBD derived from Hemp
Mary's Nutritionals Hemp Infused Massage Oil
Condom/latex safe? No (oil-based)
Amount of CBD: 50mg in 93ml (~0.54mg/ml)
CBD type: Full spectrum hemp extract
Quim Happy Clam Everyday Oil
Condom/latex safe? No (oil-based)
Amount of CBD: 50mg in 30ml (1.67mg/ml)
CBD type: Hemp CBD (Full Spectrum Hemp Flower Oil)
Kush Queen Ignite CBD Lube
Condom/latex safe? Yes (water-based)
Amount of CBD: 30mg in 30ml (1mg/ml)
CBD type: Hemp extract using Amplifi™ nanotechnology, "a process that creates CBD molecules as small as 25nm in size, which is 2,000 times smaller than pores" for deeper skin penetration
Foria Awaken
Condom/latex safe? No (oil-based)
Amount of CBD: 33mg in 30ml (~1.1mg/ml)
CBD type: Broad-spectrum CBD from hemp
Foria Basics Suppositories
Condom/latex safe? No (oil-based)
Amount of CBD: 110mg CBD per suppository, 8 suppositories per pack
CBD type: Broad-spectrum CBD from hemp
===
Want to experiment with CBD
 

lube? Literally *see* the difference in your arousal and orgasm with the Lioness Smart Vibrator...
The Lioness Smart Vibrator
Take sexual exploration to the next level. See, track, and improve your orgasms with this award-winning vibrator that uses cutting-edge technology.
Top Stories
Is there a difference between male and female orgasms?
How to use Lioness Smart Vibrator as a couples sex toy
Live view: See your orgasm in real time with Lioness
Related Stories
I had the best orgasm with weed lube and I have data to prove it
I tried CBD lube and it saved my orgasms from my stress
What is the "best" orgasm? Examples, data, and charts of real orgasms